UnixDos Toolkit for Windows
Run ANY Unix command DIRECTLY from the Windwos CMD prompt (or in any *.BAT batch file!)



The UnixDos Toolkit gives you more than 90 programs to run powerful tasks directly from the command line or batch files:

Try UnixDos without any the restrictions on your computer today for 30 days for FREE!!!
To download now click here - to order click here.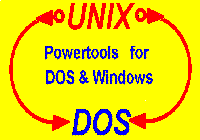 Testimonials: Gordon H "We've used the PSS UnixDos software happily since 2001"

UnixDos can runs on all Windows System (all from the command line):
Windows 8+ (within a CMD Window)
Windows 7 (within a CMD Window)
Windows Vista (within a CMD Window)
Windows 2000 (within a CMD Window)
Windows 98/95/ME (within a CMD Window)
Windows NT (within a CMD Window)
ASCII Table of Characters here
Unix® is the Trademark of X/Open Company


Windows® is the Trademark of Micosoft Corp