Interactive Broker(IB) Consulting Services by Professional Software Solutions (PSS)
"Custom IB software for your needs!" (developed by Professional Software Solutions)


I can create custom software for you - tailored exactly to your needs!
I have more than 10+ years software development experience for Interactive Broker (IB), TradeStation, Multicharts, Amibroker etc! Contact me at:

Completed Software project examples:
| | | |
| --- | --- | --- |
| Automated Trading Systems | Automated Trading from external Signals | High Speed Backtesing of Trading System |
| Managing Bracket/OCO orders | 8000 Stock Database with Daily Prices etc | Trailing Stops with Market Order |
| Trade hedged Pairs | Scanning web pages for signals/prices/etc | Custom DepthOfMarket(DOM)+Bid/Ask |
| Create custom charts | Interactive Broker (IB) Portfolio | All Markets: Stocks, Futures, Forex |
.
Preparing the IB TradeWorkStation(TWS)
Below are instructions for the one-time setup - to enable access to the TWS for the external custom software/API module:


Step1 - Open/Login to the TWS
Step2 - Open Configuration in TWS
Click on Edit/Global Configuration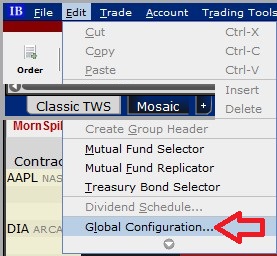 Step3 - Open Configuration in TWS
Click on the "API" and "Settings" tab on the right and you will see all the API (Application Program Interface) settings: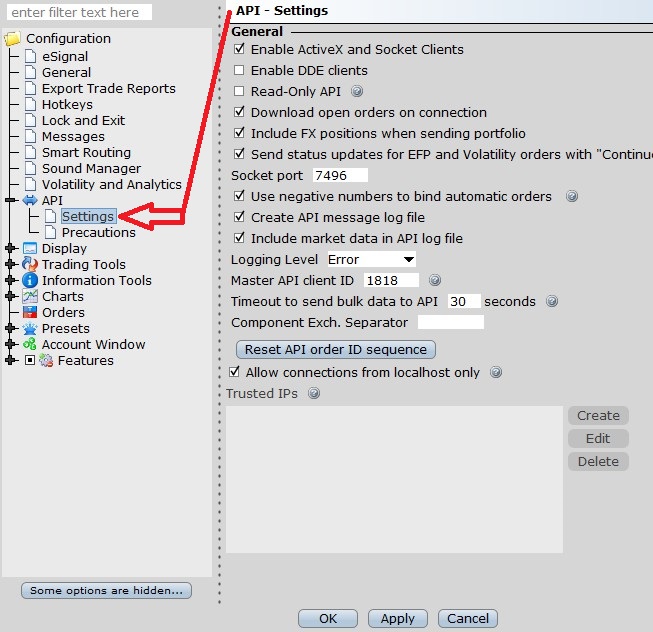 Step4 - Adjust Settings
Set the following "API" Settings as shown below:
a) Enable Socket Clients checkbox
b) Uncheck "Read Only" checkbox
c) Enter Master API Client ID "1818"
d) Check "Allow connections from localhost only"
e) OK
f) Exit TWS and restart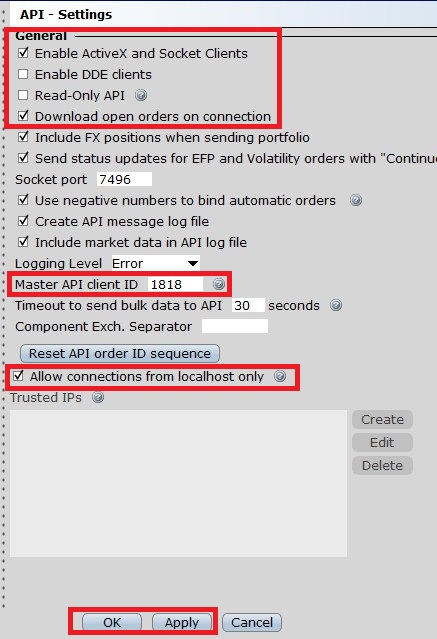 API/Order Precautions
In some cases you might need to disable the normal precautions for orders: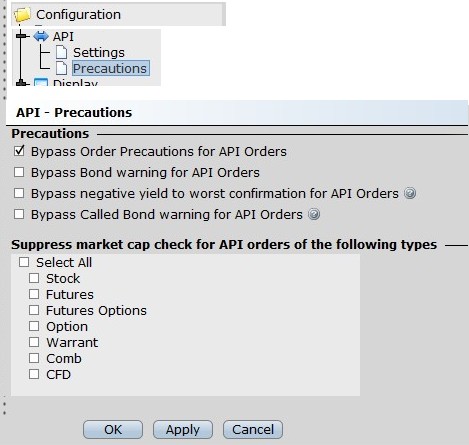 General Order Precautions
In some cases you might need to adjust the general order precautions: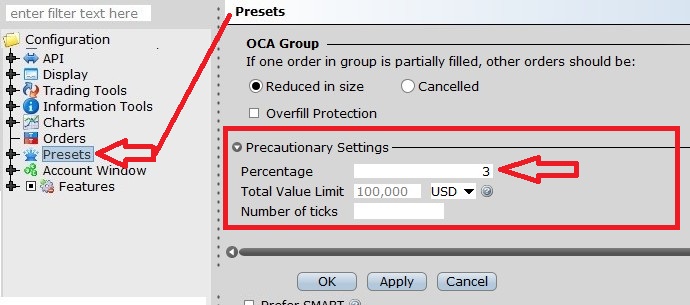 Paper Trading Account Setup
In It is very helpful to setup a "Paper Trading Account" for free - so you can test the software, but not loose any actual money!
Go to: Manage Account > Settings > Paper Trading and create a new "paper trading" login/user name and password:




to connect your new Paper Trading to the real-time live market data feed:

a) select Manage Account -> Settings -> Paper Trading




b) Enable "Share real-time market data ..." check box and click on "Apply":


Paper Trading Account Reset and Management
You can reset the Paper Account Balance - login to your new Paper Trading Account - then select "Trade/Reset":




and also manage the Paper Account
Instructions how to Vote for PSS on the Interactive Broker(IB) Consultants Page
Step1 - One-time Voting signup (so you are able to vote)
(If you have already signed up for voting - skip this step)

a) Login to your IB Account on the Web and go to Manage Account -> Security -> Voting Subscription: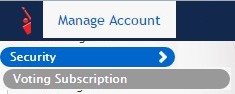 b) Create a new Voting Log Name and Password - enter your regular main Account Login Name and password - then click "Submit":




c) You will see the confirmation screen - allowing now to submit votes for consultants:

Step2 - Open the "Professional Software Solutions" entry in the consultant list
Step3 - Submitting your Vote
a) When click on the "Rate Provider Box" your voting login appears - enter your vote login name and password you created above: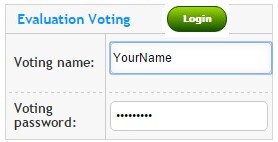 b) Click on the Rating (5 is the best) and enter your comments: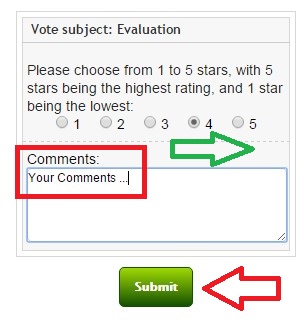 c) Finally click on the "Submit" button to cast your vote - Thank you!



© Copyright 2004-2017, Burkhard Eichberger, Professional Software Solutions
All Rights Reserved Worldwide.
Abstraco 29 5/25/2017 + 4/25/2017
Tvisi 22 6/28/2017 + 1/30/2017
PSS 16 8/2/2017 + 5/12/2017
Rita 10 2/1/2017 + 1/20/2017
Gabriel 9 6/6/2017 + 4/12/2017
Bao 7 8/5/2016 + 12/26/2014
Sofi 7 4/10/2014 + 12/21/2013
Hahn 5 8/7/2007 + 7/19/2007
DaXu 4 12/26/2014+ 5/14/2012
Ellerman 3 2/28/2012 + 6/7/2011
Altman 3 2/3/2016 + 8/1/2015
Bulleri 3 11/27/2014+ 11/27/2014
CVI 3 1/17/2017 + 8/30/2016
Williams 2 6/4/2014 + 4/10/2012





| | | | |
| --- | --- | --- | --- |
| talai | 2017-08-02 | Burkhard is very good and fast in writing a program for me for both backtesting and live trading. | NTSS |
| DanaD | 2017-05-12 | Very impressed- excellent work. Very fast service. Excellent price for project. Very knowledgeable. I plan more projects !! | SNMM |
| trader_a | 2017-05-11 | Very knowledgeable, experienced, responsive, and easy to work with! I highly recommend Burkhard. I will be working with him on future projects. | ATSI |
| shep | 2017-05-05 | I'm very pleased with the work. Burkhard was very responsive, I recommend using Burkhard's services.. | PBTLS |
| kakyabi | 2017-05-04 | Burkhard, was very professional and easy to work with. Delivered the indicator as requested within a matter of days of starting the work. | KAIS |
| dtrader1 | 2016-11-18 | It's been great working with Burkhard. He is very experienced and knowledgeable. Very easy to to talk to. I highly recommend him! | ADMI |
| BryanS76 | 2016-11-08 | Burkhard was excellent, took original brief and worked thru logic to exactly match requirements. Highly recommend for strategy building Bryan | PCATR |
| herewego | 2016-11-02 | Burkhard took my initial requirements and delivered, exceeding all of my expectations. I will definitely be using his services again. | IMES |
| trader09 | 2016-10-13 | Best programmer! Burkhard completed highly complex systems and API modules for us. Superior grasp of information and knowledge. On time. Professional. | SITM |
| kramnor2 | 2016-10-04 | -Excellent communication -Made changes quickly. -With my narrative created automatic strategy. - Completed ahead of schedule. | IBS |
| gflinn | 2016-08-18 | A pleasure to work with. We are finishing ahead of schedule. Looking forward to working with again. | ECS |
| jul0625 | 2016-08-08 | Burkhard was a pleasure to work with - he was very capable and completed my project efficiently and on time. Would use him again! | AITB |
| travisv | 2016-07-27 | Does a great job in a timely manner. He was very helpful and informative. I highly recommend. | MovAvg |
| dave_yyz | 2016-06-28 | Fantastic. Well organized and experienced. Highly collaborative. Very cost effective. Highly recommended. | MPMS |
| fork4k | 2016-03-27 | BTWFMgr is feature rich & fast. Burkhard is very helpful and open to feature suggestions. After time spent learning the software, it's great. | |
| ttrail | 2016-03-15 | well done and professional developer to work with. | |