Testimonials from some of our consulting Clients:
"Burkhard took a 3 layer trading strategy that I explained to him in plain English. He converted this to coding which I can now use to Back Test my strategy on 30 years worth of data. His service were excellent in general.
His response times were excellent, always same day and the quality of work great. His pricing was fair compared to other quotes I received. I highly recommend him and will be using him again." - 2016 - Bryan S (New Zealand)
"Burkhard excelled at 1. speed 2. cost effectiveness 3. expertise and 4. communication. He designed an automated strategy where I had very specific requirements, yet he met the demand and refined it a number of times at a speed
which was highly appreciated. As a result, this saved money with minimal time charges and got me up and going much sooner than expected. No matter what idea I had, he was able to program that for me.
He will over-deliver, and communicate very clearly what exactly is being done!" - 2016 - Sal G (Florida)
"Burkhard was a pleasure to work with - he was very capable and completed my project efficiently and on time. Would use him again!" - 2016 - Julian M (Toronto)
"The new advanced Radarscreen indicator and other custom chart indicators are all working very well- Awesome job and highly recommend! - 2016 - Al D. (Colorado)
"Burkhard did a spectacular job is creating the indicator exactly as I requested.
I agree that the porting of this indicator to Multicharts was not an easy task and you completed it in record time with a minimum of fuss and at an extremely reasonable price.
Not only would I recommend you to others - but if there are any other Easylanguage projects I need some help on Burkhard will be my first port of call! - 2015 David H. - California
"I would absolutely recommend Burkhard and will use his services again, who even complete most agreed tasks earler than planned for reasonable a price." 2015 Michael C. Arizona 
"I would recommend Burkhard - he is a great programmer" 2015 Harrison C, Arizona 
"I needed my strategy recoded because a prior programmer i had used had done a bad job.
Burkhard spent extra time with me to make sure everything was clear about the conditions in my strategy and
recoded the entire strategy, which was 400+ lines of code, error free on the first try - exactly the way i wanted it done.
Me and my partner had tried 6+ other tradestation programmers from the Tradestation specialist directory over the years and
Burkhard without a doubt is the best programmer we have used. He is detailed and professional and takes the time to make
sure everything is clear before he starts the job. I would recommend him to anyone who needs Tradestation or any programming done. - Dan S
"I can highly recommend Burkhard - he did a great job, in a very professional manner, at a very reasonable price! - Really! - Anne Gallant - Belgium
"Burkhard's strategy programming and remote consulting service fantastic. His expertise is fantastic and he is extremely professional and thorough.
The strategy he programmed for me allows me to be able to trade in a way that was before unrealistic.
I am looking forward to working him again in the very near future.!" - Richard A, WY.
"I was 100% satisfied with the strategy programming done and the phone support - Professional Software Solutions is a name you can trust.!" - B. Elder OK, USA
"I appreciate your expertise and your follow through - A job well done!" - Hartley Cranton
"Burkhard is extremely thorough and very reasonably priced. I liked his service and quality and
recommend Burkhard to a trading friend. I look forward to working with Burkhard in the future!" - Gary U.
"I am impressed with Burkhard's professional consulting in developing my trading strategies and highly recommend him!" - Edward H.
"I am very satisfied with Burkhards programming work. He was fast, accurate, economical and made creative suggestions
which improved my stragey. I wouldn't think of using anyone else in the future. ..." - John B
"I am very pleased with your work for me and would recommend you to anyone ..." - Al Paris
I'am so glad I found Professional Software Solutions. They made it very easy to automate my strategy,
and the results, price and service Blew Me Away. Thank You Burkhard. - Richard Overton
"After a frustrating experience with another EasyLanguage consultant you have been must helpful
and patient creating for me exactly the strategy I designed and I recommend his services to anyone..." - Mit White
Thank you Burkhard!!! - Job well done!! - Frank Smith
Thank you for your recent programming; I found your service to be professional, expeditious, thorough and extremely affordable.
I would strongly recommend your services to anyone and look forward to using your services in the future - Derek Pace
The strategy looks good. It works as specified. Thanks for the help! - Jim Campbell
I needed a Dll to pass trade data into an access database and Burkhard completed the job in a very timely manner
and because the job had a few complexities, he didn't quit on the project until everything worked perfectly.
Thank you for a good job. - Pat Rogers
Personalized Trading Strategy Programming
For many years we offer superior service in creating your personal custom trading strategy for you:
- allows you to backtest, verify, optimize and finally live trade your trading idea
- we also include the "print log" - so your strategy is "talking" to you,
showing you entry and exit details etc in real-time in a log
- we also include the "commentary box" - so you can examine and verify
for any bar in the chart the key parameters and values from your custom strategy
- we also include a custom web page for your strategy - with all the details about
your strategy - so you can easily go back and use this web page as a reference
- using the powerful EasyLanguage® from TradeStation®
so you can even learn a bit how strategies are programmed...
We are also available for Telephone consulting at a our reduced consulting rate.
Creation of trading systems is both - a science and an art.
For more details about strategies in TradeStation® click here
Personalized Indicator Programming
We can create your personal custom indicator and functions for you.
.
Porting from other Platforms
We can also port tools from other platforms: AmiBroker, SierraCharts, MetaTrader/MT4 etc and
provide custom solutions for Interactive Broker, TradeStation, MultiCharts, ThinkOrSwim/Ameritrade using Java or C++.
.
Personalized DLL Interface Programming
For more advanced tasks we can also program a custom DLL interface in C++ for you,
which allows you expand EasyLanguage® from TradeStation® to
unlimited functionality for more sophisticated strategies, indicators and functions.
.
Personalized Training
We are available for training in any of the following areas:
EasyLanguage® from TradeStation®
Creation of trading systems
Back testing and optimizing your strategy
TradeStation® setup
Indicator and ShowMe development
User Function development
DLL Interface development
On-site Consulting and Training
On-site consulting and training is available (Only $700/Day) plus travel and accommodation expenses.
Multi-day assignments are available for a discounted rate.
.
Custom Programming and telephone/remote consulting is $100 per hour using TeamViewer etc
See our Consulting Agreement Form and Work Order Form for more details.
During consultation it might be necessary to use software (like PCAnywhere - www.symantec.com),
which allows us to connect to your computer via the Internet,
so that during the connection we can see everything displayed on your screen.
You, in turn, see all our actions. At the same time we may contact you via phone.
This is a very efficient way to have excellent results and in a short time,
and you will learn without having to read many pages of manuals and help files.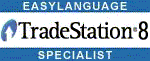 "Neither TradeStation® Technologies nor any of its affiliates has reviewed, certified, endorsed, approved, disapproved or recommended, and neither does or will review, certify, endorse, approve, disapprove or recommend, any product or service that offers training, education or consulting regarding the use of EasyLanguage®."
TradeStation® and EasyLanguage® are registered trademarks of TradeStation Technologies, Inc.
© Copyright 1994-2015, Burkhard Eichberger, Professional Software Solutions
All Rights Reserved Worldwide.